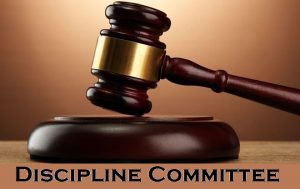 The College Discipline Committee is constituted for the maintenance of discipline in the college. The committee will ensure that students obey rules and remain orderly and peaceful in the pursuant of educational objectives/goals in the college community.
Vision
To create a safe and motivating environment in our college and to bring professionalism among students by the inculcation of best practices.
Mission
To have an optimistic approach in imparting discipline among students.
To frame rules and regulations to maintain discipline in the college premises.
To encourage Good and Healthy Practices.
Committee Members
Chairperson : Mrs. Seeja V V (Principal in Charge)
Coordinator : Mrs. Neena Merina (Assistant Professor, Commerce)