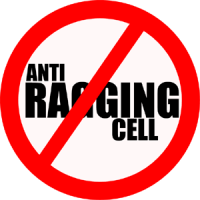 "Ragging does not break the ice, it breaks lives, careers and families!"
Ragging is totally banned in this campus and anyone found guilty of ragging and/or abetting ragging is liable to be punished as it is a criminal offence.
Anti-Ragging Measures
Government/University Grants Commission (UGC), guidelines notified vide no.F.1-16/2009 (CPP-II) dated 21-10-2009 on Curbing the Menace of Ragging in Higher Educational Institutions, 2009 (Under Section 26(1) (g) of the University Grants Commission Act, 1956) are strictly implemented at this College.
In addition to the above, those students who indulge in the acts of ragging shall attract the punishments as applicable, which include any one or combination thereof
Expulsion from the Institution/ Suspension from the classes
Fine with a public apology
Withholding of scholarship or other benefits extended to those involved in ragging
Debarring from representation in cultural or sports events, or any other representation in events for which the student(s) may have been selected
No placement assistance to students found guilty of ragging.
Filing of a complaint by the affected student with the Police Authority (as per the Supreme Court's Directive).
The Institution will punish or reprimand the student in guilt, either by itself or by following procedures, administrative or otherwise, by constituting a special Enquiry Committee and put forth its findings or recommendations before the competent authority to take a decision.
Students are encouraged to report any ragging act witnessed or experienced by them to the Principal, Student counselor, Faculty, Student Affairs and Grievances Committee or other any staff member with whom the student may feel comfortable. The college ensures the confidentiality of such a disclosure by the student.
Nodal Officer
Dr. Anitha K
(Assistant Professor, Commerce)
Mob: 9495095173