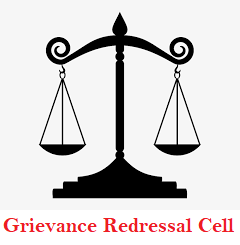 "Minimizing disagreements and maximizing academics"
VISION
To develop a responsive and accountable attitude among the student community in order to maintain a harmonious educational atmosphere in the college.
OBJECTIVES
To render a platform for the students to address their complaints, Issues and concerns.
To offer a time-bound grievance redressal mechanism
To promote harmonious living among the students
The College has a Students' Grievance Redressal Cell. The functions of the Committee are to look into the complaints lodged by any student and judge its merit. The Grievance Redressal Cell is also empowered to look into matters of harassment.
Anyone with a genuine grievance may approach the Grievance Redressal Cell members in person. In case the person is unwilling to appear in self, grievances may be sent in writing. Grievances may also be sent through e-mail to the officer in-charge of Students' Grievance Redressal Cell or Principal.
Officer in-charge
Neena Merina (Assistant Professor of Commerce)
Email- n.merina@gmail.com
Mob: 9446715306